Wow, this wedding was totally beautiful down to every detail. The ceremony was so personal, everyone was clearly engaged watching the videos and slideshows. I was trying to take pictures and wipe tears listening to their engagement story. Eddie flew Tisha to Chicago and proposed to her on a horse-drawn carriage, can't beat that! The reception was so fun and my favorite part was the singing toast which you can check out below.
We were blessed to photograph these two on their special day. Not only are they picture perfect (Marc said they look so perfect they could be wedding cake toppers), but they have big hearts and a true love.
Recipe for a picture perfect wedding: Start with an intimate cermony
Add a beautiful bride
And a handsome groom
Toss in some really cool groomsmen shots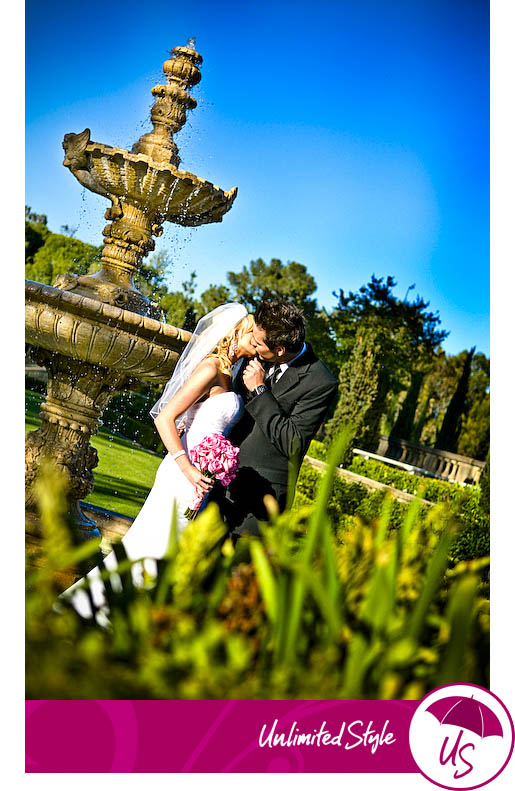 And always be ready for picture perfect moments! We were finished taking the couple shots and getting ready to go into the reception when I turned around and couldn't help but take this picture. Probably one of my most favorite of the day because it makes me laugh every time I look at it. To be fair, Eddie's facial expression really is justified because the bustle on her dress was a tiny little loop for a pretty big button.
Sprinkle in a sweet tear during the Father-Daughter dance.
…oh, and don't forget to add the cutest ring bearer and flower girl (we're missing one little flower girl because there was an incident involving her, a chocolate bar and her light pink dress! 🙂
End with a grand finale! The Bride and Groom sang a toast to all their guests…."That's Amore." It was one of the most fun moments I have seen at a wedding. The air was alive with energy and everyone was clearly lost in the moment!